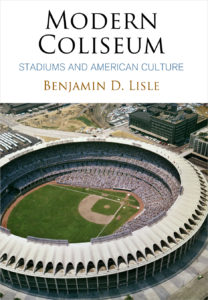 Modern Coliseum: Stadiums and American Culture tracks changes in stadium design and culture since World War II—from Brooklyn's legendary Ebbets Field to Baltimore's retro Camden Yards and its contemporary siblings. At the heart of the story are the modernist stadiums of the 1960s and '70s, exemplified by Houston's Astrodome, "eighth wonder of the world." These engineered marvels channeled postwar national ambitions while replacing aging ballparks typically embedded in dense urban settings. They were stadiums designed for the "affluent society"—brightly colored, technologically expressive, and geared to the car-driving, consumerist suburbanite. The modern stadium thus redefined one of the city's more rambunctious and diverse public spaces, while reshaping perceptions of the city and its public. And its influence on the stadiums of today is profound, though unappreciated.
This cultural history is rooted in extensive research among the archives of teams, owners, architects, and cities, as it examines how design, construction, and operational choices were made. Through this approach, we see modernism on the ground, as it was imagined, designed, built, and experienced as both an architectural and a social phenomenon. The analysis is supplemented by over seventy-five images documenting the transformation of the American stadium over time. Modern Coliseum should interest a variety of readers, from urban and architectural historians to sports fans.
Modern Coliseum in the media:
February 2019: Modern Coliseum was reviewed by Andy Fuller at The International Journal of the History of Sport.
September 2018: Modern Coliseum was reviewed by Brett L. Abrams at Journal of American History.
Fall 2018: Modern Coliseum was reviewed by J. Philip Gruen at Buildings and Landscapes.
May 2018: Modern Coliseum was reviewed by David M. Sokol at The Journal of American Culture.
May 2018: Modern Coliseum was reviewed by L.A. Heaphy at Choice.
October 2017: Modern Coliseum was reviewed by Robert Greene II at Atlanta Studies.
August 2017: Modern Coliseum was reviewed by Beyond Chron.
August 2017: I was interviewed and cited in a Quartz story on refugees sheltered in Montreal's Olympic Stadium.
August 2017: TKNN interviewed me about Modern Coliseum.